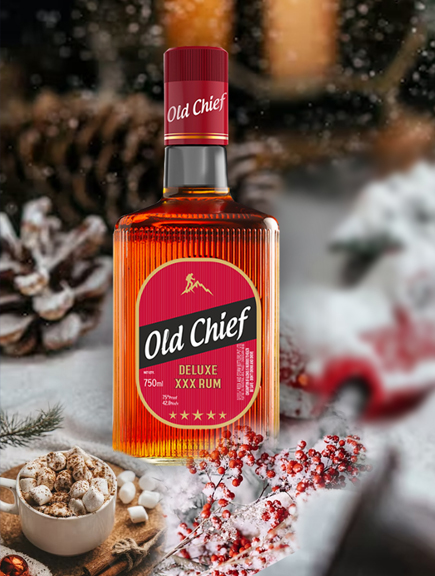 A Toast to Old Chief Rum for Christmas by Alcostar Group
The thrill of the year-end holiday season is upon us, and with celebrations in the air, there's nothing more delightful than being surrounded by family, friends, and the festivities that come along with it.
But what's a holiday celebration without a few of your favourite drinks to accompany the festivities? So for those who love rich and bold rums, we at Alcostar Group would like to make a toast to the beautiful Old chief rum for Christmas!
Distilled in the Caribbean to perfection, old chief rum comes in the dark with toffee, vanilla, and cinnamon notes - everything you'd love to enjoy during the holiday season!
At Alcostar Distillers, we're passionate about serving extraordinary rums to satisfy all sorts of taste preferences. So, in a bid to keep the tradition going, we're thrilled to be able to deliver the deliciousness that accompanies every sip of old chief rum.
Let's explore how this bold, authentic and flavourful rum can make your holiday toast memorable in ways!
Discover New Ways To Get Creative with your Christmas Celebrations!
Old Chief Rum is the perfect accompaniment for any toast this holiday season. Whether a simple shot or a creative and creative cocktail, aged chief rum will genuinely be the life of the party this New Year's Eve. Its depth of flavour and beautiful amber colour make it sure to be a crowd-pleaser.
Here are the best ways to get creative with your holiday celebrations and your no.1 choice of Old Chief Rum:
Rum in Cocktails
A classic rum cocktail option is a trend long gone. If you'd like to try something new, consider mixing some Angostura bitters with a sugar cube and some ice. Add some old chief rum and stir it up with a bar spoon. Finish it with an orange twist, and you have a delightful cocktail ready!
Authentic Rum and Coke
Coca-Cola and old chief rum are another classic combination. Add some lime juice to give it a vibrant and refreshing twist. Enjoy this drink with some ice to cool yourself down during the warmer months.
Classic combo of Rum &Warm Water
Try a warm cup of water with old chief rum for a comforting winter beverage. With its sweet and spicy flavours, this is a great way to get cosy on a winter's night. To add sparkle, top your drink with a cranberry or orange juice splash.
Christmas and New Year Cakes
Try using old chief rum in your recipes for a delicious and indulgent Christmas or New Year dessert. It adds a depth of flavour that can't be replicated with any other liquor. Also, try drizzling some Rum over your cakes and cookies before baking to give them a unique festive flavour.
Slay your Christmas celebrations with Alcostar's Exclusive Collection!
Alcostar is a rum brand renowned for its superior quality of products resulting from unique production processes, carefully selected ingredients, and unique aging techniques!
Our Old Chief Rumis made from sugarcane, molasses, and other natural flavours, along with various specialty ingredients, such as vanilla, cinnamon, and nutmeg. This gives the rum it is signature smooth, mellow taste.
The aging process is also a critical factor in the flavour profile, with the rum being aged in oak barrels for a minimum of two years. This allows the natural flavours to combine and mature, giving the rum its renowned rich, complex flavour. In addition to its smooth taste, you also get the elite feels in a budget-friendly range, which makes it a popular choice among customers.
The bottle features a sophisticated design, with a black and silver label that makes the product stand out from other brands. Therefore, Old Chief Rum is an excellent choice for any special occasion, from formal dinner parties to casual backyard barbecues!
Cheers to Holiday Season!
This holiday season, let's make a toast to old chief rum. Old Chief Rum is sure to be a mood-pleaser with its exceptional taste and fiery kick.
Whether you would like to enjoy it as part of a classic cocktail or warm it up with a cup of warm water, it is sure to make good company for your favourite Christmas or New Year dessert recipes!
Happy holidays and cheers to you from all of us at Alcostar Group. We wish you merry, bright, and rum-filled celebrationsall season long!