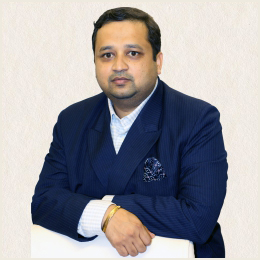 Arundeep Singla
Chairman & Managing Director
Experience, Excellence, and Employment are three core values that Alcostar is built upon. Despite finding certain endeavors in the liquor industry, my heart still felt like something has remained unfulfilled. Consequently, I founded Alcostar Distilleries Pvt. Ltd. in 2020 with the ambition and vision - To become the best performing and most respected Spirits Company of India while providing a consistent premium experience to customers and creating employment opportunities.
We never looked back afterwards and established several successful brands under IMFL. We are firm believers that success is gained through hard work. We have successfully made our place in the hearts of our consumers with our IMFL spirits. A variety of products in Whisky, Rum, Vodka and Gin segments have already been launched by us under the brand names Sherry Platinum, KIEV, Royal General, Old Chief and Gravity in Punjab, Himachal Pradesh, Chandigarh and Uttarakhand. Our products have been awarded by Spiritz Selections in 2021 . It is an honor to say that this is just the beginning.
Earlier, we brought the brewpub culture to India in the brand name of 'The Brew Estate' in 2016 with the concept of craft beer combined with food and music. Our latest ventures – 'Drinkyard' in the food and beverage experience market and 'The Liquor Estate' an elite liquor boutique – converting the old regular liquor shopping experience to an elite class with all imported and Indian liquor brands under one roof, have been successfully launched in 2022. We advocate responsible drinking and drive various initiatives as a part of CSR, with our high synergy of a Young, Dynamic and Experienced team. With our expansion plans coupled with a hard- working and experienced team, we invite you to become a part of the Alcostar family and enjoy a voyage of a lifetime.
By focusing on quality, we strive to provide incredible products experiences!