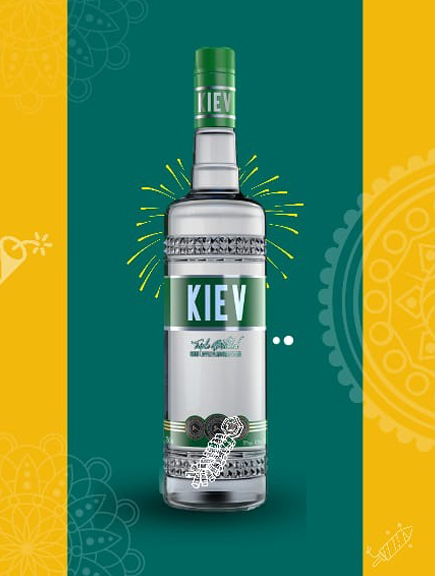 We are in the most joyful season of the year when the festivals are yet again knocking on the doors to liquor-up-house bars or to wrap your personally curated gift baskets. What's your first choice for this festive season? Ours is Vodka. Who celebrated Diwali Dhamaka or Halloween party without cheering on a flavoured vodka?
When it comes to celebrating festivals with family, friends and colleagues, Vodka is a popular choice of drink during the festive season. It is believed to bring good luck and fortune in many traditions.
As Diwali, Halloween, Christmas and other festivals are approaching, we are thrilled to introduce flavored vodka brand made with pure grains. You can get Flavoured Kiev Vodka at any local tavern or get Kiev Vodka hampers at The Liquor State across Chandigarh Tricity.
Kiev is the most popular choice among Vodka Lovers
No matter what festival you celebrate, Kiev Vodka is the perfect gift to help lift your spirits. The sleek and modern bottle will make a great addition to your home bar or liquor cabinet, whether you are looking for a gift for yourself or someone else.
The festival season has different meanings for different people, and those who drink are always up for some good shots of booze.
Kiev brand introducestwoflavors of Vodka for those who love going slow and yet crazy.One is sweet and sassy green apple flavor vodka, which is suitable for both neat shots and yum cocktails. The second option is for the ones who prefer to serve clarity drinks. It is original Kiev Vodka made with pure grains.
The best thing about the Kiev Vodka is its unparalleled taste. It has a smooth texture and feels just as heavenly on the mouth! This decadent flavor and unparalleled taste come from a lot of distillation.
Above that, some sprinkle of innovation and experiments brings out the best Vodka you have ever tested. And apart from the delicious taste aspect, you can also mix this Vodka into various cocktails! Now that's something fun, isn't it?
Where to buy Kiev Vodka Flavour?
If you are looking for the best vodka in Chandigarh for festive season, you can find it on the shelves of taverns, modern liquors shops or The Liquor Estate boutique in Chandigarh, Tricity area.
The Kiev Vodka is a renowned brand for its royal packaging. Its sophistication is celebrated worldwide.With the most refined taste of our liquor collection, we wish you a joyful festival season ahead with your friends, family, and loved ones.
Is there a better gift than Apple Green Flavor Vodka?
The versatility of Kiev Vodka Brand makes it as the first drink choice, as you can mix it in various cocktails. Also, this has no odor in it. This versatility of Kiev Vodka brings cocktail lovers and neat shooters together. It offers a bland flavor and green apple flavor for an ecstatic experience.
Oh! Did we mention this? Kiev Vodka has a super smooth finish. Well, the best part is still awaiting!
The answer is a big 'no'. One of the most budget friendly and smooth vodka with attractive packing is a perfect gift and a quality drink to serve your guests this year.
The brand has made it a point to consider that both qualities meet customer affordability. It has made sure that its exclusive product can be experienced and accessible by one and all. What can be better than this, right?
With festivals around the corner, it's all about family time, gossip, fun, music, and food. And you will indeed feel like you are missing out on a lot this season if you have not yet tried out the fantastic Kiev Vodka.
Bottoms Up on Kiev?
From Diwali to Christmas to New Year, many festivals take place. And what's a better way to celebrate these occasions than with a delicious flavored vodka drink?
Don't miss out on any fun when you can have it at your own budget with the added advantage of unparalleled taste and versatility?
We earnestly hope you savor every little moment of the festivals joyfully. We wish Kiev Vodka brandbe your companion for making this time even more magical!
Cheers to the festive vibes!